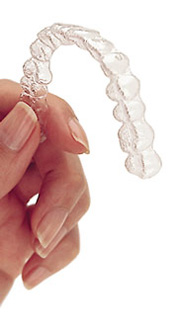 Twohig Dentistry is your Certified Invisalign Provider in Albuquerque, NM
At Twohig Dentistry, we provide all aspects of dentistry, including Invisalign treatment! We build lifelong relationships with our patients, where we can monitor the movements of Invisalign and ensure that retention is optimal. You've worked hard to get a straight smile, and we can help you keep it that way!
What is Invisalign Treatment?
Invisalign treatment uses a series of clear plastic aligners to slowly straighten your teeth. The process begins with an impression of your teeth and a digital treatment plan is prescribed by Drs. James or Mary Rose Twohig. From this, we develop a virtual simulation of how your teeth will move. This virtual simulation, called a ClinCheck, allows us to verify that the movements that have been prescribed are completed. We can also show you this 3D simulation so you can see what your teeth will look like after your treatment is complete!
Why Invisalign Treatment?
There are several advantages of Invisalign over braces. Invisalign is less visible to others, so you don't need to hide your smile while you're straightening your teeth. It is also easier to eat and clean your teeth with Invisalign, since you can remove the aligners. You never have to worry about food becoming stuck in your brackets!
How does Invisalign treatment work?
Depending on your initial condition and your overall goals of the treatment, your Invisalign treatment can be as short as six months or as long as a few years. Depending on your specific tooth movements, you will need to visit our Albuquerque dental office every four to 12 weeks.
Compliance is the biggest factor for Invisalign treatment success. You must wear your aligner trays for 20 to 22 hours a day for optimal success.
Is Invisalign treatment right for you?
The only way to determine if Invisalign treatment best for you is to schedule a consultation at our Albuquerque dental office. We'll take photos, radiographs, and models to determine the safest and most effective way to align your teeth.